Get 10% Off your first order with Hennessys!* Enter code FIRST at the checkout!
*Some exclusions apply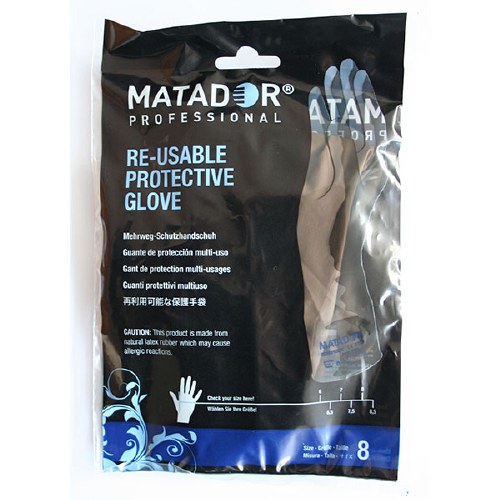 Denman Matador Glove Size 8
Your Price :
€
10 reasons why you should choose Matador Gloves

1. They are super-stong. Matador gloves are made from 0.5mm thick latex and are much stronger than disposable gloves.

2. Despite their strength, they do not inhibit sensitivity or handling of hairdressing tools so you have full protection without losing control.

3. They have a rolled edge making them resistant to tearing and also help the glove fit firmly to your forearm or sleeve keeping any liquid out.

4. They have a long cuff providing added protection to the wrist and forearm.
5. They are smooth on the inside making them easy to put on and textured on the outside so that tools wont slip from your grasp.

6. They have been extensively tested against the six main chemicals found in hairdressing preparations. Matador gloves meet all the standards required for personal protective equipment (PPE).

7. They offer complete protection from solutions used in perming, colouring and chemical treatments which can cause dermatitis.

8. They are re-usable up to 10 times if you look after them: after using, wash them thoroughly in warm, soapy water and then rinse and leave to dry away from direct heat and sunlight.

9. They come in 6 sizes - from 6 to 8.5 - so you can choose a size that fits you comfortably and allows you to work quickly and freely.

10. They are high quality professional products perfectly designed to withstand the rigours of the salon.