Get 10% OFF your first order with Hennessys! Enter code FIRST at the checkout!
*Some exclusions apply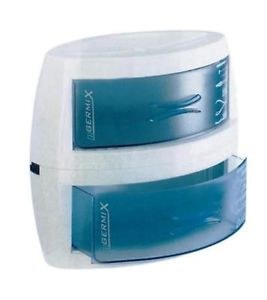 Germix UV Steriliser Twin
Probably one of the best twin drawer UV sterilizers available on the market today.

Ideal for use in beauty salons, hair salons, tattoo salons etc.

So simple to use, just place your clean items in the drawer for 20-30 mins each side. It can be used for plastic / metal combs, scissors, sponges, tweezers etc. The unit automatically turns on when the bottom drawer is closed and turns off automatically when the bottom drawer is opened. These units are very popular in salons because they are strong, yet lightweight and easily portable, safe and efficient. This makes them the ideal UV sterilizer for use in all types of beauty / grooming establishments.

This Germix twin drawer UV sterilizer is equipped with an internal ultraviolet lamp which quickly destroys all micro-organisms. It's ideal for maintaining the sterility of the tools used by hairdressers and beauticians. The sterilized tools can be kept ready-to-use for long periods (as treatment with UV light does not generate heat). For maximum safety, a micro-switch automatically turns the lamp off when the bottom drawer is opened.