Due to the current Covid-19 crisis both our stores are temporarily closed inline with government guidelines
We will keep you posted on our re-opening dates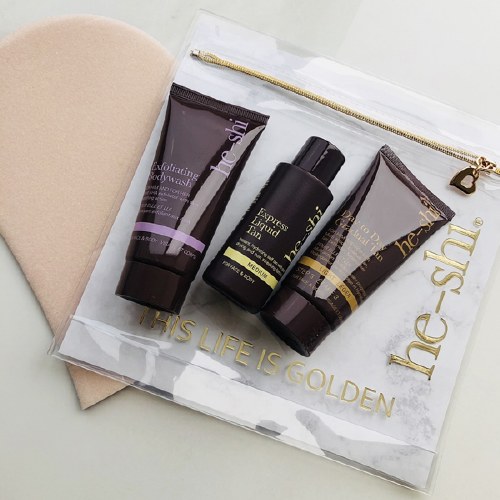 He-Shi Gift Set 2018
Your Price :
€
He-Shi Take Me Away Travel Gift Set

You don't have to leave your golden glow at home this summer with our Take Me Away Travel Gift Set complete with a certified airport liquids bag

Set includes:

- Certified airport liquids bag
- 1 x 50ml Day to Day Gradual Tan
- 1 x 50ml Express Liquid Tan
- 1 x 50ml Exfoliating BodyWash
- 1 x Tanning Mitt

HE-SHI EXFOLIATING BODYWASH is ideal for preparing and extending your flawless tan.

Exfoliating Bodywash is a luxurious face and body exfoliator containing fruit AHAs and scrub-particles to gently remove dead skin cells whilst providing a skin polishing action to smooth the skin.

Delicious aromas of strawberry will leave the body refreshed, smooth, cleansed and moisturised.

This compact and conveniently sized Exfoliating Bodywash is the perfect solution for the ultimate tan, either at home or when travelling as it's under the 100ml airline cabin baggage limit, so whatever the weather, theres no excuse for returning from holiday without a tan!

HE-SHI EXPRESS LIQUID TAN is a self tanning bronzer which tans on contact giving an instant golden colour which will last up to 7 - 10 days and is quick drying due to its incredibly light, smooth and moisturising texture.

With its 'see where it goes' formula you can be confident of not developing streaks or patches. If desired the liquid can be reapplied for a deeper instant colour.

Suitable for use all over the body including the facial area.

Made from 100% natural DHA and is an odourless, paraben and alcohol free formulation.

HE-SHI DAY TO DAY GRADUAL TAN is ideal for gradually building a light bronzed complexion for those with fair to medium skin tones.

Day to Day contains anti-ageing Vitamin E, Aloe Vera and Pro Vitamin B5 for rehydrating your skin whilst including a subtle element of self tan.

This triple action lotion will absorb easily and will even out your natural skin tones or can also be used to maintain an existing tan by topping up your colour between self tan applications.

Suitable for use all over the body including the facial area.

HE-SHI TANNING MITT
Use this patented self tan applicator mitt to achieve the very best application of He-Shi tanning products. The flocked foam surface of the He-Shi applicator mitt ensures even and flawless coverage and the lotion-proof barrier helps to ensure that hands remain stain-free.